The Secret Crusade
Talk

0
3,874pages on
this wiki
This article is about Niccolò Polo's journal. You may be looking for the real world novel.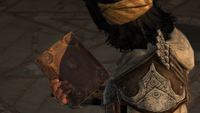 The Secret Crusade (Italian: La Crociata Segreta) was the personal journal of Niccolò Polo, a detailed study on the life of the Mentor of the Levantine Assassins, Altaïr Ibn-La'Ahad.
Middle Ages
Edit
In 1257, Niccolò and his brother Maffeo Polo were invited to stay at the Assassin Order's fortress of Masyaf in Syria. Having been visited by Altaïr Ibn-La'Ahad's son Darim in their home in Constantinople, they journeyed to Masyaf, were Niccolò had various discussions with Altaïr about the latter's life. As a result, Niccolò wrote these stories down in a journal, which ended up covering all key moments of Altaïr's life. The journal also acted as a sort of diary, giving details of the Polo brothers' actions during their stay in the village.[1]
Renaissance
Edit
Niccolò intended to pass the journal to his son, Marco. By 1511, the journal had come in the possession of Leandros, a Byzantine Templar captain who was preoccupied with trying to open Altaïr's library hidden beneath Masyaf's fortress.[2]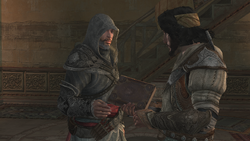 The Mentor of the Italian Assassins, Ezio Auditore da Firenze, arrived in Masyaf in 1511, on a quest to enter the library as well. Learning from a common worker forced into serving the Templars that Leandros had the journal in his possession, Ezio sought Leandros out, and, after a long chase through Masyaf and a nearby village, Ezio was able to kill Leandros and obtain the journal.[2]
Learning that the keys needed to open Altaïr's library were located in Constantinople after reading the journal, Ezio set out on a journey to Constantinople, while continuing to read the journal along the way.[2]
References
Edit