The Second Camp was a virtual representation of one of Aveline de Grandpré's genetic memories.
Description
Following her elimination of the false Mackandal's first camp, Aveline reunited with Élise Lafleur, who guided her to another encampment.
Dialogue
Aveline met with Élise again.
Élise and Aveline walked a short distance.
Aveline tailed the Acolyte to a secluded area on the edge of the camp, where she killed him and found another letter.
Aveline then returned to the smugglers' hideout, hoping to find Élise.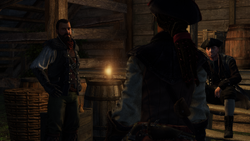 Outcome
Aveline eliminated another acolyte and found out that the voodoo ceremony she had uncovered was to take place on the Eve of Saint John. Hoping to find out the ceremony's location, she consulted Roussillon, who advised her to seek out the houngan of San Danje.
Gallery
Reference
Ad blocker interference detected!
Wikia is a free-to-use site that makes money from advertising. We have a modified experience for viewers using ad blockers

Wikia is not accessible if you've made further modifications. Remove the custom ad blocker rule(s) and the page will load as expected.