Here we seek to open the minds of men.


This article is a stub and is in need of expansion. You can help the Assassin's Creed Wiki by expanding it.
He who increaseth knowledge, increaseth sorrow.


This article contains spoilers, meaning it has information and facts concerning recent or upcoming releases from the Assassin's Creed series.
If you do not want to know about these events, it is recommended to read on with caution, or not at all.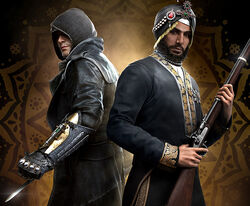 The Last Maharaja is a single-player downloadable content addition for Assassin's Creed: Syndicate and was released on 1 March 2016. The content consists of ten missions in which Jacob and Evie Frye aid Duleep Singh, the youngest son of Ranjit Singh, in reclaiming his birthright as Maharaja.
The Last Maharajah memories can be accessed after Sequence 3, but take place after Sequence 9.
Official synopsis
Join Duleep Singh in his quest to reclaim his birthright as the Maharaja. In his quest to reclaim his heritage, he will take on the Templars and test his friendship with the Queen. Discover ten brand new missions set within London!
Memories
Reference