This article is about a memory. You may be looking for the fortified locations.
The Forts
Technical information
Description

Hearing that the Templar Torres plans to pick up a large shipment of gold from a nearby fort, Edward and Adéwalé decide to attack.

Appearance
Memory type

Main

Full sync

Use the mortar to damage the fort.
Use a running assassination to kill the officer.

Previous
Next
Historical information
Ancestor
Location
Date

January 1717
The Forts is a virtual representation of one of Edward Kenway's genetic memories, relived by a research analyst at Abstergo Entertainment through the Animus.
Description
Edit
Edward got information on the governor of Cuba and a large sum of money being in a nearby fort, so he set out to capture it.
Edward boarded the Jackdaw and sailed to the fort.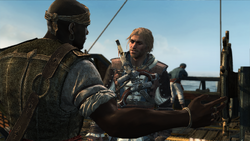 Edward then used the Jackdaw to destroy the fort's defenses and infiltrate it. After killing the officer in charge, he went into the war room.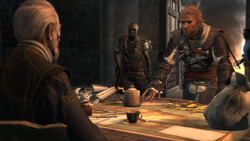 Edward captured a fort for the pirate cause, and devised a plan to find the Sage and earn some money by using Torres as bait.
Reference
Edit
Ad blocker interference detected!
Wikia is a free-to-use site that makes money from advertising. We have a modified experience for viewers using ad blockers

Wikia is not accessible if you've made further modifications. Remove the custom ad blocker rule(s) and the page will load as expected.