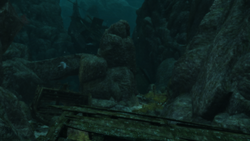 The Blue Hole was a shipwreck site located in the Gibara region of the Caribbean. Home to several hostile species, including sharks and moray eels, it was explored by the pirate Edward Kenway during the early 18th century.
While searching the wreck, Edward managed to locate and loot several treasure chests that had sunk with the ship, gaining money and an upgrade plan for his own vessel, the Jackdaw.
Reference
Edit
Ad blocker interference detected!
Wikia is a free-to-use site that makes money from advertising. We have a modified experience for viewers using ad blockers

Wikia is not accessible if you've made further modifications. Remove the custom ad blocker rule(s) and the page will load as expected.