Here we seek to open the minds of men.


This article is a stub and is in need of expansion. You can help the Assassin's Creed Wiki by expanding it.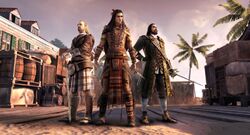 The Battle Hardened Pack is a multiplayer downloadable content addition that is available for Assassin's Creed III.
The pack includes three new Animi Avatars and simulated maps with the new personas including the Coyote Man, the Governor, and the Highlander. The maps for Charlestown, Fort St-Mathieu, and Saint Pierre are introduced, and the downloadable content includes a total of four achievements to earn.
Reference