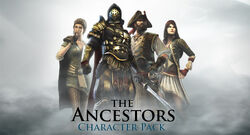 The Ancestors Character Pack is a downloadable content pack for Assassin's Creed: Revelations. This character pack became available for download on 12 December 2011 on Xbox Live, 13 December 2011 for the PC, and 14 December 2011 on the PlayStation Network.
The pack contained four new Animi Avatars to use in the second stage of the Animi Training Program, which included the Corsair, the Brigand, the Privateer, and the Gladiator.
The pack also included four achievements, one for each of the new personas:
The Corsair: "Stopped Dead" - Obtain 3 Hidden Gun kills while playing Steal the Artifact.
The Brigand: "The Vulture" - Perform 5 Ground Finishes during Manhunt.
The Privateer: "Pirate's Bravery" - Use the Bodyguard ability against your pursuer.
The Gladiator: "The Juggernaut" - Perform 3 kills using the Charge ability.
Reference
Ad blocker interference detected!
Wikia is a free-to-use site that makes money from advertising. We have a modified experience for viewers using ad blockers

Wikia is not accessible if you've made further modifications. Remove the custom ad blocker rule(s) and the page will load as expected.