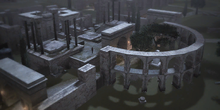 The Terme di Diocleziano (English: Baths of Diocletian) was a landmark located in the Campagna district of Rome.
Perched atop Viminale Hill, the Terme di Diocleziano were the most lavish of all imperial baths built during the height of the Roman Empire. Like the rest, they remained operational until the Goths cut the Roman water supply in 537.
After that, much of the structures were converted into various different spaces, commissioned by the Roman Catholic Church.
Reference
Edit