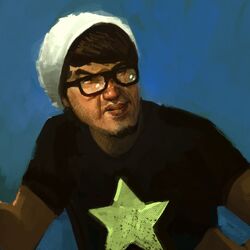 Teo Yong Jin is an illustrator from Malaysia that works at Cardboard Utopia. At Ubisoft Singapore, he was a Senior Concept Artist, responsible for art direction, texture work and lighting, as well as the creation of concept art for characters, environments and props.
Before his time at Ubisoft, Jin worked as a concept artist for Brains Sdn. Bhd and founded his own indie studio called Big Bad Robots, though it closed after two years.
Games credited
Edit
Assassin's Creed IIEdit
Assassin's Creed: BrotherhoodEdit
Assassin's Creed IIIEdit
Assassin's Creed IV: Black FlagEdit
External links
Edit
Ad blocker interference detected!
Wikia is a free-to-use site that makes money from advertising. We have a modified experience for viewers using ad blockers

Wikia is not accessible if you've made further modifications. Remove the custom ad blocker rule(s) and the page will load as expected.