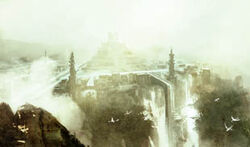 Tenochtitlan was the capital of the Aztec civilization, located in Mexico.
In 1520, Giovanni Borgia, an Assassin tasked with obtaining a Crystal Skull, secretly traveled with Hernán Cortés to Mexico.
While the Spanish came in peace at first, they massacred the Aztecs after seeing their barbaric traditions, and as an excuse to take the Aztec's gold. In the process, the Aztec leader Moctezuma, who was captured and tried to reason with his people, was killed by his fellow Aztecs.
Giovanni, who had managed to retrieve the Crystal Skull from an Aztec priest, managed to escape from Tenochtitlan with some of Hernán's crew, and returned to Spain.
Present-day Mexico City is built upon the ruins of Tenochtitlan.
Reference
Edit
Ad blocker interference detected!
Wikia is a free-to-use site that makes money from advertising. We have a modified experience for viewers using ad blockers

Wikia is not accessible if you've made further modifications. Remove the custom ad blocker rule(s) and the page will load as expected.