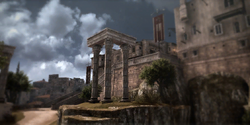 The Temple of Vespasian (Italian: Tempio di Vespasiano), is a temple in Rome located at the western end of the Roman Forum between the Temple of Concordia and the Temple of Saturn. It is dedicated to the deified Vespasian and his son, the deified Titus.
Construction
Edit
Construction was ordered by Titus and began in 79 after Vespasian's death and Titus's succession. Titus' brother, Domitian, completed and dedicated the temple to Titus and Vespasian in approximately 87. Titus began construction and presumably finished the foundations, made of tufa concrete, and the core of the podium, made of white marble. Domitian, however, completed the interior work after Titus' death. The inner walls were in travertine, lined with marble imported at great expense from the eastern provinces.
Reference
Edit
Ad blocker interference detected!
Wikia is a free-to-use site that makes money from advertising. We have a modified experience for viewers using ad blockers

Wikia is not accessible if you've made further modifications. Remove the custom ad blocker rule(s) and the page will load as expected.