Here we seek to open the minds of men.


This article is a stub and is in need of expansion. You can help the Assassin's Creed Wiki by expanding it.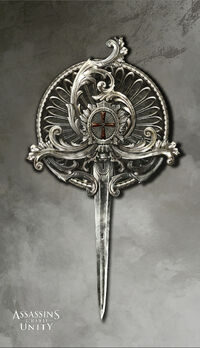 The Templar pin was a bladed adornment worn by some French members of the Templar Order around the time of the French Revolution, that could be used as a weapon and replaced the function of Templar rings, signifying the membership in the Order. Typically, the pins featured the Cross of the Templars in its center with intricate designs surrounding the symbol, varying according to the blacksmith or the Templar owner.
During the French Revolution, the bladed pins were made by the silversmith and Templar François-Thomas Germain before his excommunication, after which they were only made for the members of his extremist faction. When his follower, Charles Gabriel Sivert, recruited the Roi des Thunes into his faction, he gave him a pin and called him brother. Later, the Roi des Thunes used his pin to kill the Grand Master François de la Serre, by plunging the bladed side into the man's neck, who bled to death.[1]
By 1927, the Templar agent acting as Black Cross at the time used a Templar pin as his weapon of choice. His pin could be filled with various poison, the Black Cross was known to use two poisons; one that killed instantly and another that killed after one hour.[2]
References
Edit