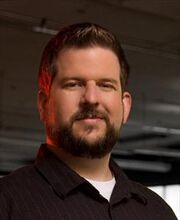 Steven Masters is a Lead Game Designer at Ubisoft Montreal, where he worked on the production of Assassin's Creed III.
Biography
After having graduated from the University of Surrey with a degree in Computing and ICT, Masters started in the games industry as a tester with Simis Limited between May 1997 and November 1998, where he tested five products. Later, when the company was assimilated into Kuju Entertainment, he moved on and became a Games Designer with Kuju between November 1998 and April 2005.
After starting off in the United Kingdom, Steven traveled to Canada in 2005 to join Ubisoft Montreal, where he worked on Rainbow Six: Vegas as an AI Designer. After releasing the multi-award winning title, he joined the Assassin's Creed team, this time specializing in the Action Loop.
After completing that project, Masters decided to take a brief leave of absence, but returned to work on Tom Clancy's Rainbow Six: Vegas 2 during the closing stages of its development.
Following this, Masters became the Lead Game Designer on Splinter Cell Conviction, helping to manage a team of designers to deliver the game. After that, he rejoined the Assassin's Creed team in 2010 to deliver Assassin's Creed: Brotherhood as the Lead Game Designer.
Accredited games
Team Apache (1998) - Mindscape
Tank Racer (1999) - Grolier Interactive
Peacemaker: Protect, Search & Destroy (1999) - Brightstar Entertainment
Ka-52 Team Alligator (2000) - GT Interactive Software
Fireblade (2002) - Midway Games
Warhammer 40,000: Fire Warrior (2003) - THQ
Tom Clancy's Rainbow Six: Vegas (2006) - Ubisoft
Terror Strike (2006) - Konami of Europe
Assassin's Creed (2007) - Ubisoft
Tom Clancy's Rainbow Six: Vegas 2 (2008) - Ubisoft
Assassin's Creed - Director's Cut Edition (2008) - Ubisoft
Tom Clancy's Splinter Cell: Conviction (2010) - Ubisoft
Assassin's Creed: Brotherhood (2011) - Ubisoft
Assassin's Creed III (2012) - Ubisoft
External links