Stephane Chapheau
Talk

1
3,869pages on
this wiki
"This is my one hope - that he smiles upon the choices I've made."
―Stephane to Connor over whether or not his father is proud of his choices.
Stephane Chapheau
Biographical information
Born

1743
Montréal

Political information
Affiliations
Real-world information
Appears in
Voice actor
Stephane Chapheau (1743 – unknown) was a French-Canadian chef in Boston during the American Revolutionary War. He was aided by the Assassin Connor when the British forces attempted to collect taxes from him, and was later recruited by Connor as an apprentice.
Biography
Edit
Chapheau was born in Canada. His father served as a cook for the French army during the French and Indian War, serving for the officers. However, he was one of the many untrained soldiers conscripted to join the battlements and later as a result died fighting in the Plains of Abraham. After his death, Stephane took on work as a chef and moved to Boston in 1764.
While residing in Boston, Stephane was one of the dissenters among the populace with strong grievances against British Parliament policies for the colonies. As a result he became a strong supporter of the Patriot's cause for independence from the British, leading to the American Revolutionary War.
In 1765, he was part of a mob that protested against the British Parliament Stamp Act, which imposed direct taxation, and took part in the ransacking of Governor Hutchinson's mansion. In 1770, Stephane was present in another protest which led to the Boston Massacre. Furthermore, Stephane was arrested and fined on several occasions for drunken behavior and brawling.
In 1773, Stephane refused to continue paying taxes to the British. As a tax collector came to his house, Stephane angrily called him a thief and threw the contents of his chamber pot at him. Stephane brawled against the taxman and guards, during which, Connor came to his aid. In gratitude, Stephane offered to, one day, buy Connor a drink. Connor continued assisting the district by attacking tax enforcers and tea smugglers.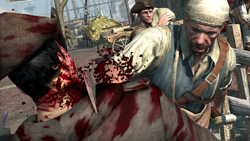 After his home was robbed and his footlocker stolen by British soldiers, Stephane angrily led another mob in protest of the taxation. Stephane and Connor discovered a taxman in a market, prompting Stephane to attack him, plunging his butcher knife into his shoulder. The taxman, however, revealed that he actually worked for William Johnson. Stephane finished him off quickly to end his suffering, at the advice of Connor.
Connor, soon after, explained the truth about the Templar Order and the Assassins. Stephane offered to join in Connor's battles to fight against injustice and for freedom. Stephane assisted Connor in the Boston Tea Party, fending off the guards and dumping crates of tea into the harbor.
While underground in Sequence 11, Stephane and Lafayette discussed how having a King as a ruler would result in tyranny and hypocrisy, hence they argued that the people should have the right to elect their leaders. This preludes to how America would become a democratic society in favor over lineage of kings.

Chapheau, perhaps jokingly, suggests avoiding monarchy by having the country's ruler be castrated.

In combat, Stephane wielded small weapons.
Reference
Edit