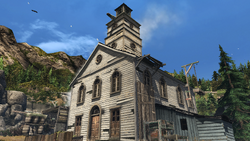 St. Paul's Church is an Anglican church in Halifax, Nova Scotia.
The church was modeled after the ground plans of the Marybone Chapel on Vere Street in London, and opened in 1750. New additions were continually made, and the interior would only be completed after nearly a decade.
St. Paul's is the oldest Anglican church in North America, and was built with the traditional arrangement of three naves and two side galleries. In 1787, it became the first Anglican cathedral outside Great Britain to be given a Bishop's seat.
Reference