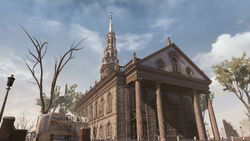 St. Paul's Chapel is an Episcopal chapel located in Lower Manhattan in New York.
History
Originally in 1766, St. Paul's Chapel is Manhattan's oldest public building that enjoyed continuous use up to the Modern era. George Washington worshipped there during New York's brief stint as United States' capital.
Reference
Ad blocker interference detected!
Wikia is a free-to-use site that makes money from advertising. We have a modified experience for viewers using ad blockers

Wikia is not accessible if you've made further modifications. Remove the custom ad blocker rule(s) and the page will load as expected.