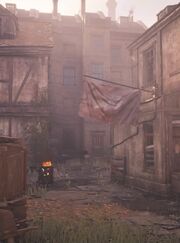 Spitalfields was an area in London, Britain, during the Victorian era.
Located in Whitechapel, Spitalfields used to be the home to the silk industry and its wealthy merchants. However, when the silk industry, and Whitechapel in general, started declining, Spitalfields slowly devolved into a slum. Rexford Kaylock and his Blighters then moved into the area, using Spitalfield as their base of operations.
In 1868, the Assassins Jacob and Evie Frye arrived in London, eager to wrest the city from Templar control. Following the leads provided to them by Henry Green, the twins liberated Spitalfields from the Blighters, saving the surviving Clinkers in the process. Spitalfields then became a stronghold for the Rooks.
Reference
Edit
Ad blocker interference detected!
Wikia is a free-to-use site that makes money from advertising. We have a modified experience for viewers using ad blockers

Wikia is not accessible if you've made further modifications. Remove the custom ad blocker rule(s) and the page will load as expected.