Patience, brothers. Soon we will reveal the secrets of Assassin's Creed: Origins.


This article has been identified as being out of date. Please update the article to reflect recent releases and then remove this template once done.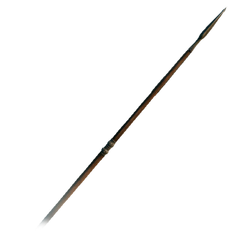 A spear is a basic polearm that consists of a shaft with a pointed head. This design ensures that it is primarily suited for thrusting.[1]
History
Spears were virtually ubiquitous throughout human history, adopted by cultures around the world as a basic weapon. In 221 BCE, the Chinese Assassin Wei Yu slew the first Emperor of China, Qin Shi Huang, with a spear. Until the advent of firearms, spears saw regular service with militaries, such as that of the Saracens during their assault on the Assassin citadel of Masyaf in 1176.[2]
During the Renaissance, guards which employed pole weapons such as spears and halberds were commonly called Seekers for their tendency to use them to probe hiding spots.[3][4] While the Italian Brotherhood of Assassins tended to forsake polearms for their impediment to freerunning, spears were favored by many prominent Templars of this era, with infamous examples being the Turkmen renegade Shahkulu, Odai Dunqas, and Samila Khadim.[5]
Though spears were gradually phased out in militaries by firearms like other melee weapons, as late as the French Revolution, they continued to see use among the Assassins such as those of the Parisian Brotherhood.[1]
Weapon statistics
1st century Ptolemaic Egypt
Name
Rarity
Quality (Max Level 40)
Damage (Max Level 40)
Attributes
Availability
Adamant Reed
Rare
86
337
Bleeding on Hit II

Critical Hit Damage I

Twitch Prime Pack DLC
Bark of Ra
Legendary
Purchase the Almighty Pack DLC
Cyrene's Spear
Legendary
92
394
Critical Hit Damage III

Adrenaline on Kill II

Health for Critical

Complete One Bad Apple.
Golden Feather
Legendary

Critical Hit Damage III

Critical Hit Rate II

Sleep on Hit

Helix Store, Nomad's Bazaar
Handy Spear
Common
95 (Lvl 45)
417 (Lvl 45)
Critical Hit Damage I
Blacksmith, Loot
Iron Spear
Common
94 (Lvl 45)
399 (Lvl 45)
Critical Hit Damage I
Blacksmith, Loot
Lance of Anhur
Legendary
91
390

Critical Hit Damage II

Adrenaline Regeneration III

Health on Hit

Helix Store, Nomad's Bazaar
Leaf-shaped Impaler
Common
95 (Lvl 45)
395 (Lvl 45)
Critical Hit Damage III
Blacksmith, Loot
Light Spear
Common
94 (Lvl 45)
410 (Lvl 45)
Critical Hit Damage II
Blacksmith, Loot
Needle
Rare
98 (Lvl 45)
395 (Lvl 45)

Bleeding on Hit

Critical Hit Damage

Blacksmith, Loot, Nomad's Bazaar
The Phoenix
Legendary
101 (Lvl 45)
402 (Lvl 45)

Critical Hit Rate I

Critical Hit Damage III

Health on Kill

Nomad's Bazaar
Pilum
Rare
101 (Lvl 45)
417 (Lvl 45)

Critical Hit II

Adrenaline on Hurt I

Blacksmith, Loot
Sarissa
Legendary

Critical Hit Damage III

Adrenaline on Kill I

Cursed

Blacksmith, Loot
Sekhmet's Spear
Legendary
Critical Hit Damage II

Critical Hit Rate I

Health on Kill

Blacksmith, Loot
The Serpent of Serapis
Rare
Critical Hit Rate II

Critical Hit Damage II

Helix Store
Shooting Star
Rare
Critical Hit Damage II

Critical Hit Rate II

Complete Fair Trade
The Trial
Rare
Critical Hit Damage II

Adrenaline on Hurt I

Uplay
Was Scepter
Legendary
94
282
Combo Multiplier IV

Critical Hit Rate II

Health for Critical

Helix Store
Italian Renaissance
| Name | Damage | Speed | Deflect | Cost | Availability |
| --- | --- | --- | --- | --- | --- |
| Spear | 3 | 3 | 5 | N/A | N/A |
French Revolution
| Name | Level | Damage | Parry | Speed | Range | Cost | Modifiers | Requirements |
| --- | --- | --- | --- | --- | --- | --- | --- | --- |
| Spear | * * * | 3 | 3 | 3 | 4 | 1,000₣ | Additional damage: +25% | N/A |
Gallery
Trivia
Appearances
References