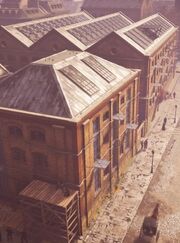 Southwark Spinning Mill was a cotton mill located in London, United Kingdom, in the mid-nineteenth century.
For a long time, the cotton mill had been on the decline. At some point, the business was bought anonymously, and gifted to Octavia Plumb, the leader of the Blighters in Southwark. From then on, citizens in the borough kept their distance from the facility, not wishing to cause any trouble and be faced by one of Plumb's many thugs.
In 1868, Clara O'Dea asked the Assassins for help in exchange for information and the services of her urchins. Jacob and Evie Frye infiltrated Plumb's cotton mill, freeing the children and assassinating its overseer. In the aftermath of that infiltration, the Rooks managed to take control of the mill.
Reference