Here we seek to open the minds of men.


This article is a stub and is in need of expansion. You can help the Assassin's Creed Wiki by expanding it.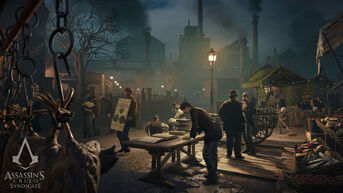 Southwark is one of the seven boroughs of London. The region served as the center of economy during the Industrial Revolution.
The borough was overseen by Templar Octavia Plumb; to take over Southwark, Jacob and Evie Frye had to take down several threats. When they were dealt with, a Gang War would be arranged to take down the Templars grip on the borough for good.
Reference