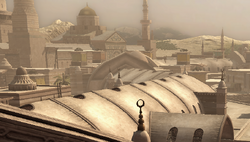 The Souk Sarouja was a market quarter in Damascus which was located in the northwestern part of the city's Rich District, just next to the Umayyad Mosque. It held the reputation of being the largest market in the Holy Land, and was split into two separate structures that ran from west to east, and north to south.
Reference
Edit
Ad blocker interference detected!
Wikia is a free-to-use site that makes money from advertising. We have a modified experience for viewers using ad blockers

Wikia is not accessible if you've made further modifications. Remove the custom ad blocker rule(s) and the page will load as expected.