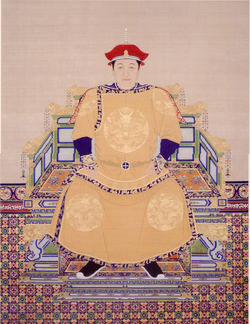 The Shunzhi Emperor (15 March 1638 – 5 February 1661), real name Aisin-Gioro hala-i Fulin, was the third emperor of the Qing dynasty and the first Qing emperor to rule over China, from 8 October 1644 until his death.
In 2012, Clay Kaczmarek included the Shunzhi Emperor in one of the Glyphs inside the Animus for Desmond Miles to find.
Reference
Edit
Ad blocker interference detected!
Wikia is a free-to-use site that makes money from advertising. We have a modified experience for viewers using ad blockers

Wikia is not accessible if you've made further modifications. Remove the custom ad blocker rule(s) and the page will load as expected.