Ezio, my friend! How may I be of service?


This article is in desperate need of a revamp. Please improve it in any ways necessary in order to achieve a higher standard and follow our Manual of Style.

Short blades were short bladed weapons that traded power and reach for a faster swing rate.
History
12th century
Altaïr Ibn-La'Ahad's short blade was returned to him after he had reached the third rank in the Assassin Order, following his demotion. Like the sword, his skill with the short blade increased as he progressed higher through the Order's ranks.[1]
The first short blade he obtained had a wooden handle, though he received an all metal variation at a later rank. In both instances, he carried the short blade in a sheath strapped across his back, with the handle facing down.[1]
In battle, Altaïr wielded a short blade with an icepick grip, and often used it in conjunction with throwing knives.[1]
Renaissance
In a similar fashion to Altaïr, Ezio Auditore da Firenze was equipped with both a medium weapon and a short blade, though they were sheathed together at his side. He could purchase various types of short blades from blacksmiths, each with unique speed, damage and deflection properties.[2]
In battle, he would wield the short blade much as Altaïr did, utilizing the same icepick grip, though he did not learn to use it alongside throwing knives until he became a Master Assassin.[2][3]
Several of his allies, such as thieves and courtesans, also used short blades in battle. Certain guards and assassination targets, such as agiles and Rodrigo Borgia, made use of short blades as well. However, none of these held their weapons in an icepick grip.[2]
Combat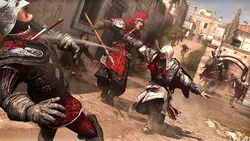 Short blades strike more quickly than medium weapons, which made them ideal for dispatching large numbers of low-ranked enemies. However, as an enemy's rank increases, the short blade's effectiveness diminished, due to the higher quality armor they wore.[1][2]
For Altaïr, the special, close-ranged attack of most short blades could only be performed from behind – slitting an enemy's throat, or stabbing them in the shoulder or back – which would always result in an instant kill.[1]
When used with the short blade, Altaïr could throw a single throwing knife mid-combat. Similarly, Ezio could dual-wield the short blade with throwing knives, and could throw multiple throwing knives at once.[1][3]
Weapon statistics
Ptolemaic Egypt
Dual Swords
Name
Rarity
Quality (Max Level 40)
Damage (Max Level 40)
Attributes
Availability
Blades of Thoth
Legendary
103 (Lvl 45)
494 (Lvl 45)

Adrenaline Regeneration IV

Combo Multiplier I

Health on Kill

Complete Shards From The Star.
Courage and Justice
Legendary
102 (Lvl 45)
494 (Lvl 45)

Adrenaline Regeneration II

Combo Multiplier III

Health for Critical

Purchase the Eastern Dynasties Pack.
Eye of Horus
Legendary
93
400

Adrenaline Regeneration II

Critical Hit Rate IV

Health on Kill

Helix Store, Nomad's Bazaar
Fatal Duet
Legendary
92
407

Adrenaline Regeneration III

Adrenaline on Kill I

Health on Hit

Blacksmith, Loot
Hash and Slash
Rare
97 (Lvl 45)
487 (Lvl 45)

Adrenaline Regeneration II

Critical Hit Damage II

Blacksmith, Loot
Jutes & Cimbri
Common
95 (Lvl 45)
484 (Lvl 45)
Adrenaline Regeneration III
Blacksmith, Loot
Mirror Blades
Rare
94 (Lvl 45)
484 (Lvl 45)

Adrenaline Regeneration I

Combo Multiplier I

Blacksmith, Loot
Motivational Duet
Common
85
400
Adrenaline I
Blacksmith, Loot
Scissor Blades
Common
84
390
Adrenaline Regeneration II
Blacksmith, Loot
Storm Blades
Legendary
92
464

Adrenaline Regeneration III

Critical Hit Rate II

Instant Charging

Blacksmith, Loot
Twin Blades
Common
Adrenaline Regeneration I
Blacksmith, Loot
Wadjet's Knives
Legendary
92
400

Adrenaline Regeneration IV

Critical Hit Damage I

Poison on Hit

Helix Store, Nomad's Bazaar
Italian Renaissance (15th century)
Italian Renaissance (16th century)
Ottoman Empire (16th century)
Name
Damage
Speed
Deflect
Cost
Availability
Kurdish Jambiya
1
2
2
345

345

345

Sequence 2
Macedonian Dagger
2
2
2
518

518

518

Sequence 3
Standard Stiletto
1
3
2
805

805

805

Sequence 3
Arabian Dagger
2
4
1
1848

1848

1848

Sequence 4
Butcher Knife
3
5
3
5750

5750

5750

Sequence 5
Afghani Khyber Blade
4
4
2
11040

11040

11040

Sequence 6
Bayezid's Knife
5
3
4
13248

13248

13248

Sequence 6
Romani Stiletto
5
3
4
N/A
Complete all Romani challenges
Mehmet's Dagger
5
5
5
N/A
Complete The Trickster, Part 1
Seven Years' War
Colonial Louisiana
| Name | Damage | Speed | Combo kill | Chain-kill | Cost | Persona |
| --- | --- | --- | --- | --- | --- | --- |
| Kuba | 3 | 5 | 3 | 4 | 25000 écu | Assassin, Slave |
Victorian era
The Kukri is a short, bladed weapon of Nepalese origin, similar to a machete. These weapons are available to Jacob and Evie Frye in London . They are also used by the leader of the Assassins in London, Henry Green .
They are the most lethal melee weapon availabile in Victorian London but have lower impact for stunning than the cane-swords also available.
There are 16 available Kukris.
| Name | Level | Attack | Stun | Lethality | Availability | Upgrade |
| --- | --- | --- | --- | --- | --- | --- |
| Ivory | 2 | 2 | 1 | 4 | Complete Sequence 3, Somewhere That's Green | £500 | +1 all stats |
| Adept | 3 | 3 | 1 | 3 | Buy for £3000 | - |
| Ruby | 4 | 4 | 1 | 4 | Reach Loyalty Level 1 with Henry Green | £2000 | +1 all stats |
| Iron | 4 | 4 | 1 | 4 | Craft: £2000 and 80 Metal | - |
| Bold Eagle | 5 | 5 | 2 | 5 | Complete Sequence 5, Friendly Competition | £2500 | +1 A, +1 L |
| Guard | 5 | 5 | 2 | 5 | Buy for £4000 | - |
| Jade | 6 | 6 | 3 | 6 | Complete Sequence 6, A Case of Identity | £3500 | +2 A, +1 L |
| Master Ruby | 6 | 6 | 3 | 6 | Reach Loyalty Level 2 with Henry Green | £3500 | +2 A, +1 L |
| Henry's | 6 | 6 | 3 | 6 | Craft: £3000 and 120 Metal | - |
| Assassin | 7 | 7 | 3 | 7 | Craft: £3750 and 140 Metal | £4500 | +2 A, +1 L |
| Gold Blessing | 7 | 7 | 3 | 7 | Conquer the borough of The Thames | £4500 | +2 A, +1 L |
| Ancient | 8 | 8 | 4 | 8 | Buy for £10000 | - |
| Master Assassin | 8 | 8 | 4 | 8 | Reach Loyalty Level 4 with Henry Green | £5000 | +2 A, +1 L |
| Serrated Death | 9 | 9 | 4 | 9 | Reach Loyalty Level 4 with Ned Wynert | - |
| Eagle's Splendor | 9 | 9 | 4 | 9 | Craft: £6000, 160 Metal and 50 Chemical | - |
| Legendary Assassin | 10 | 10 | 5 | 11 | Reach Loyalty Level 5 with Henry Green | £10000 | +3 A, +1 S, +2 L |
Trivia
References