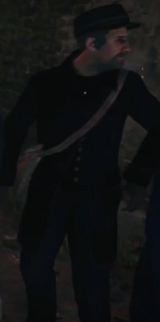 Seweryn Kłosowski (14 December 1865 – 7 April 1903), also using the name Ludwig Schloski, was a Polish serial killer living in London in 1888.
Klosowski emigrated to the United Kingdom at some point between 1887 and 1888, settling in Whitechapel shortly before the Whitechapel murders started.
Seweryn poisoned three of his wives, which led to him being known as "the borough poisoner." Residing in whitechapel, where he also worked as a barber under a false name, Klosowski became a suspect in the investigation the Metropolitan Police Service was conducting into the Whitechapel murders.
Fearing for his safety, Inspector Frederick Abberline tasked the Assassin Evie Frye, who had recently returned from India, with safely bringing Klosowski in for questioning.
Reference
Ad blocker interference detected!
Wikia is a free-to-use site that makes money from advertising. We have a modified experience for viewers using ad blockers

Wikia is not accessible if you've made further modifications. Remove the custom ad blocker rule(s) and the page will load as expected.