He who increaseth knowledge, increaseth sorrow.


This article contains spoilers, meaning it has information and facts concerning recent or upcoming releases from the Assassin's Creed series.
If you do not want to know about these events, it is recommended to read on with caution, or not at all.
Here we seek to open the minds of men.


This article is a stub and is in need of expansion. You can help the Assassin's Creed Wiki by expanding it.
This article is about the Metropolitan Police headquarters. You may be looking for the Metropolitan Police Service itself, sometimes known simply as "Scotland Yard".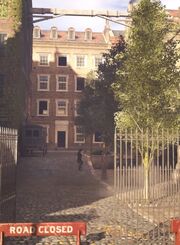 Scotland Yard was the headquarters of the Metropolitan Police Service, located in the Strand, London.
Prior to the construction of Scotland Yard, the land was owned by King Kenneth III of Scotland. It had been given to him by King Edgar the Peaceful of England in the tenth century and for nearly 600 years served as the residence for the Scottish monarchy whenever they visited England.
When Scotland unified with England in 1707, the palace was demolished, with a series of government buildings and residences built in its place. Following the creation of the Metropolitan Police Service by Prime Minister Robert Peel in 1829, the area was selected as the organization's headquarters. The office's rear entrance stood on Great Scotland Yard, leading the police force to become known around the world as "Scotland Yard".
Reference
Edit
Ad blocker interference detected!
Wikia is a free-to-use site that makes money from advertising. We have a modified experience for viewers using ad blockers

Wikia is not accessible if you've made further modifications. Remove the custom ad blocker rule(s) and the page will load as expected.