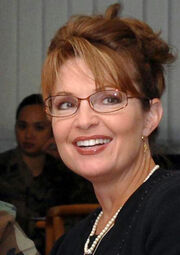 Sarah Louise Palin (née Heath; born 11 February 1964) is an American politician, commentator, and author who served as the ninth Governor of Alaska from 2006 to her resignation in 2009. As the Republican Party nominee for Vice President in the 2008 Presidential election, alongside Arizona Senator John McCain, she was the first Republican woman nominated for the Vice Presidency.
In 2012, Clay Kaczmarek included her in one of the Rifts inside the Animus.
Reference
Edit
Ad blocker interference detected!
Wikia is a free-to-use site that makes money from advertising. We have a modified experience for viewers using ad blockers

Wikia is not accessible if you've made further modifications. Remove the custom ad blocker rule(s) and the page will load as expected.