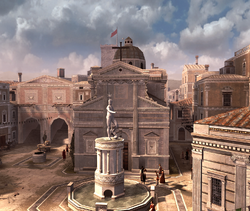 The Santa Maria in Vallicella, or Chiesa Nuova, was a cathedral built by Pope Gregory I dedicated to Santa Maria in Vallicella. In 1575, construction of the eminent cathedral began, and the church was later consecrated in 1599.
Both names of the church are Italian, with Santa Maria in Vallicella being usually translated as "Our Lady in the Little Valley", whereas Chiesa Nuova means "New Church".
Reference
Edit
Ad blocker interference detected!
Wikia is a free-to-use site that makes money from advertising. We have a modified experience for viewers using ad blockers

Wikia is not accessible if you've made further modifications. Remove the custom ad blocker rule(s) and the page will load as expected.