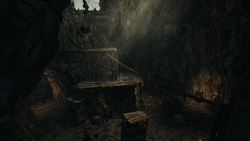 San Juan, located on the southern coast of Cuba, was one of several smuggler dens in the Caribbean. It was found and robbed of its supplies by the pirate Edward Kenway during the early 18th century.
Relatively small, San Juan primarily consisted of two caverns, one of which opened up to a cliff overlooking the sea. Used to store various wares and cargo, they could be accessed through a series of underwater tunnels, populated by moray eels and sea urchins.
Reference
Edit
Ad blocker interference detected!
Wikia is a free-to-use site that makes money from advertising. We have a modified experience for viewers using ad blockers

Wikia is not accessible if you've made further modifications. Remove the custom ad blocker rule(s) and the page will load as expected.