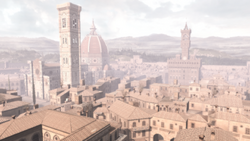 The San Giovanni District was one of four districts of Florence. The Palazzo Auditore was located in this district.
San Giovanni was named after Saint John the Baptist, the patron saint of Florence. It was the oldest area of the city and the center of administration, encompassing the Palazzo della Signoria, as well as the Basilica di Santa Maria del Fiore.
Reference
Edit
Ad blocker interference detected!
Wikia is a free-to-use site that makes money from advertising. We have a modified experience for viewers using ad blockers

Wikia is not accessible if you've made further modifications. Remove the custom ad blocker rule(s) and the page will load as expected.