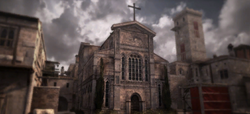 The San Andrea della Valle (English: Saint Andrew of the Vale) was a major structure in Rome, in the rione of Sant'Eustachio.
The land was first bequeathed to the Duchess of Amalfi who herself was a descendant of Pope Pius II. She was then charged by the order of Theatine with the responsibility of erecting a church in honor of St. Andrew.
Although she did not live to see it completed in 1650, the final product was something to behold. Its completion was celebrated all over the world due to the stunning interior.
Reference
Edit
Ad blocker interference detected!
Wikia is a free-to-use site that makes money from advertising. We have a modified experience for viewers using ad blockers

Wikia is not accessible if you've made further modifications. Remove the custom ad blocker rule(s) and the page will load as expected.