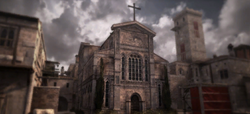 Sant'Andrea della Valle (English: Saint Andrew of the Vale) is a minor basilica in Rome, in the rione of Sant'Eustachio.
History
The land was first bequeathed to the Duchess of Amalfi who herself was a descendant of Pope Pius II. She was then charged by the order of Theatine with the responsibility of erecting a church in honor of St. Andrew.
Although she did not live to see it completed in 1650, the final product was something to behold. Its completion was celebrated all over the world due to the stunning interior.
Reference