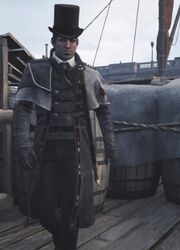 Samuel Hargrave (unknown – 1868) was a British Templar who could often be found in London during the Victorian era.
Samuel Hargrave killed his own father, Captain Hargrave, and then stole his identity as well as his job, calling himself Captain Hargrave II. The Templar Order hired Hargrave to patrol the Thames for intruders and other trouble. While performing this job, Hargrave sent many individuals to the bottom of the Thames.
In 1868, Jacob and Evie Frye located Samuel Hagrave on his ship while he was navigating the Thames. Per Henry Green's request, they assassinated the Templar captain, dumping his body into the river afterwards.
Reference
Edit
Ad blocker interference detected!
Wikia is a free-to-use site that makes money from advertising. We have a modified experience for viewers using ad blockers

Wikia is not accessible if you've made further modifications. Remove the custom ad blocker rule(s) and the page will load as expected.