"Allocation of fiefs is the opposite of war: giving land, not taking it."
―Sakakibara Yasumasa.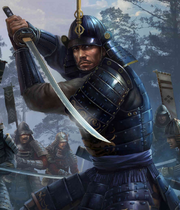 Sakakibara Yasumasa (1548 – 19 June 1606) was a Japanese samurai, serving as one of Tokugawa Ieyasu's four generals, the "Four Guardians", along with Ii Naomasa, Honda Tadakatsu and Sakai Tadatsugu.
Yasumasa earned the trust of his lord when he fought some members of his extended family for him, including Toyotomi Hideyoshi, during the difficult Sengoku period. When his master was approached by the Assassins with a plan to retrieve a Sword of Eden, Yasumasa was the most suspicious of the Assassins, though he was still impressed by their aptitude.
Reference
Edit
Ad blocker interference detected!
Wikia is a free-to-use site that makes money from advertising. We have a modified experience for viewers using ad blockers

Wikia is not accessible if you've made further modifications. Remove the custom ad blocker rule(s) and the page will load as expected.