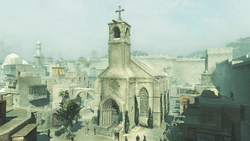 Saint Anne's Church was a Christian church located in the Rich District of Jerusalem. It was constructed by Crusaders on top of a grotto believed to be the birthplace of Jesus' grandmother, Anne. It was the only Crusader church not to be destroyed by the Mamluks in the 12th century, instead being converted into an Islamic seminary.
Reference
Edit
Ad blocker interference detected!
Wikia is a free-to-use site that makes money from advertising. We have a modified experience for viewers using ad blockers

Wikia is not accessible if you've made further modifications. Remove the custom ad blocker rule(s) and the page will load as expected.