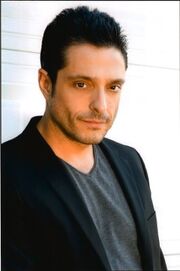 Romano Orzari (born 12 December 1964) is a Canadian actor. He has appeared in TV shows such as Bugs, Mutant X, Durham County, and Banshee and has appeared in films such as Punisher: War Zone, The Last Hit Man, and One Way Out.
In the Assassin's Creed series, Orzari provided the face and voice of Giovanni Auditore in Assassin's Creed II and physically portrays the character in Assassin's Creed: Lineage.
Assassin's Creed works
Assassin's Creed II (2009) – Giovanni Auditore
Assassin's Creed: Lineage (2009) – Giovanni Auditore
External links
Ad blocker interference detected!
Wikia is a free-to-use site that makes money from advertising. We have a modified experience for viewers using ad blockers

Wikia is not accessible if you've made further modifications. Remove the custom ad blocker rule(s) and the page will load as expected.