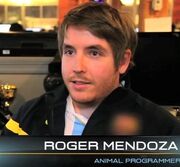 Roger Mendoza is the animal AI programmer on Assassin's Creed III at Ubisoft Montreal.
Biography
Edit
Upon graduating from the Universitat Ramon Llull in Barcelona, Spain with a degree in Multimedia (2002 – 2008), Medoza immediately started his career as a software engineer where he researched and developed experimental user interfaces among other duties for the company FUNITEC La Salle. [1]
Following this he moved to Montreal, Canada in 2009 to begin working at Ubisoft Montreal.
Game credits
Edit
Unreleased driving game, (2007) - FUNITEC La Salle
Shaun White Skateboarding (2009) - Ubisoft
Assassin's Creed III (2012) - Ubisoft
Mendoza is multi-lingual, speaking English, Spanish, French and Catalan.
He graduated with a Video Game Programming Diploma (2008 – 2009) from the Université de Sherbrooke as part of the Ubisoft Campus initiative.
External links
Edit
References
Edit
Ad blocker interference detected!
Wikia is a free-to-use site that makes money from advertising. We have a modified experience for viewers using ad blockers

Wikia is not accessible if you've made further modifications. Remove the custom ad blocker rule(s) and the page will load as expected.