Here we seek to open the minds of men.


This article is a stub and is in need of expansion. You can help the Assassin's Creed Wiki by expanding it.
He who increaseth knowledge, increaseth sorrow.


This article contains spoilers, meaning it has information and facts concerning recent or upcoming releases from the Assassin's Creed series.
If you do not want to know about these events, it is recommended to read on with caution, or not at all.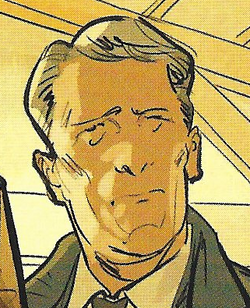 Robert Burton was a British spy, doctor and a member of the Assassin Order who operated in Europe during World War II.
Biography
Formerly the personal doctor of Winston Churchill, Burton became a spy during World War II and was tasked to infiltrate the organization of London criminal "Jack Turpin", in fact a SS officer and spy named Otto Hammerstein. During his mission, Burton, who had become Hammerstein's right-hand man, was eventually recruited by the Assassin Boris Pash and joined the Brotherhood.
In September 1940, after several unsuccessful attempts, Pash who wanted to infiltrate the German's atomic project supervised by Hammerstein's commanding officer, the Templar Gero Kramer, devised a plan; To send an Assassin to Kramer who didn't knew himself that he was an Assassin. To do so, Pash asked Burton to put Hammerstein in contact with the docker Eddie Gorm, an individual who unknowingly was in fact the descendant of a bloodline of Assassins and had inherited the abilities of his ancestors.
Pash's plan succeeded and by 1942, Gorm, who actually believed that he was working for the Americans, was the Brotherhood's double agent in the inner circle of Kramer. However, after Gorm lose his temper and blew his cover, the Assassins had to rescue him and fellow Assassin Julia Dusk was hit by a bullet in the process. While Burton was driving them back to the Brotherhood's hideout in Berlin, Gorm tried to strangle him after reconizing the Assassin as the henchman of Hammerstein, but stopped after Pash told him that Burton was one of his agents. Once in the hideout, Burton took care of the critically injured Dusk while Pash was explaining everything to Gorm.
Appearance
Reference