Patience, brothers. Soon we will reveal the secrets of Assassin's Creed: Unity.


This article has been identified as being out of date. Please update the article to reflect recent releases and then remove this template once done.
I wanted to ask you something. Which is… what's your name?


The title of this article is conjecture. Although canon, no official name for the subject of this article has been given.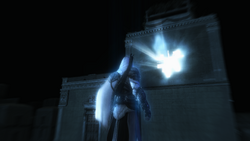 Rifts appeared to be breaks in the programming of memories within the Animus, which could be seen using Eagle Vision. Each of the ten rifts were found on key landmarks throughout Rome, and concealed Clay Kaczmarek's cluster puzzles.
Rifts were the equivalent of Glyphs, but instead of revealing a second Truth video, they simply relayed the message "The miracle is in the execution" over the apparent ultrasound of an unborn child, along with the inclusion of an executable file.
Unlike Glyphs, Rifts could not be seen or accessed without the use of Eagle Vision. Ezio Auditore da Firenze had to grab the edge of a Rift, whilst using Eagle Vision, and climb into it.
Various hidden messages such as coded numbers and letters, music notes and Morse code appeared in the Rifts, which when deciphered, explained Abstergo Industries' rise to power.
Locations
Edit
Puzzle types
Edit
Rifts retained some of the puzzles included in Glyphs, such as the rotating pictures and image-finding puzzles, but also included several new ones.
Chess: Desmond was shown a chessboard with all corresponding chess pieces, as well as a riddle that told him which piece to use and where to move it.
Decoding: Desmond was given a variety of images and a riddle, of which he could alternate between with a screen containing a two-layered rotating wheel that contained symbols, acting as a code sheet, as well as 2 rows of 4 boxes bearing changeable symbols that acted as a code entry box. By reading the riddle, he could search through these images for the hidden object that revealed the "correct coordinates" located in a single image, and, when the correct coordinates were found, Desmond could rotate the wheel to break the code.
Sound wave matching: Desmond was given an audio recording and multiple sound waves. By selecting the correct sound waves to match the one shown on the screen, he was allowed to listen to the audio tape and/or move on to the next puzzle.
Quarantine zone: This puzzle was always the last puzzle of every rift. Desmond was shown a black screen with a relatively small circular crosshair that revealed red, blinking dots as well as a background image. These dots emitted beeping sounds, increasing the closer the crosshair was. All dots had to be "activated" in a certain amount of time, and if any of the remaining dots were not activated, the puzzle was reset. These dots remained in the same area every time, even after the puzzle had been reset. After completing this puzzle, the clip contained within the particular Rift was unlocked.
Cluster puzzles
Edit
Cluster 1
Edit
Puzzle 1: The puzzle was solved by selecting the five images of aristocrats not doing any sort of work.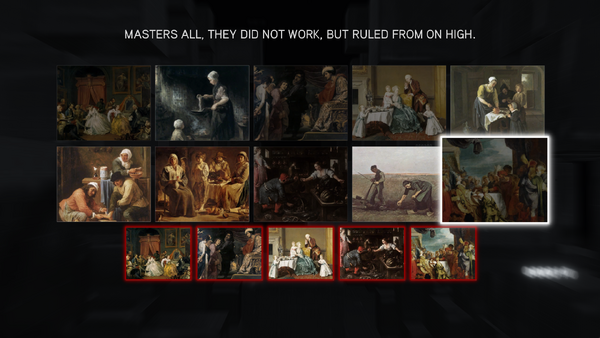 Cluster 2
Edit
Cluster 3
Edit
Cluster 4
Edit
Cluster 5
Edit
Cluster 6
Edit
Cluster 7
Edit
Cluster 8
Edit
Cluster 9
Edit
Cluster 10
Edit
Even after completing the present-day segment in the Colosseum and falling into a comatose state, Desmond was still able to hear the voices of the modern Assassins after completing the final Rift. However, the game would not conclude with Desmond in free fall, but in an ordinary loading screen still featuring him.

Likewise, Lucy Stillman's voice could still be heard outside of the Animus when the file was ready to execute, even if she had already been killed in the present day.
Ad blocker interference detected!
Wikia is a free-to-use site that makes money from advertising. We have a modified experience for viewers using ad blockers

Wikia is not accessible if you've made further modifications. Remove the custom ad blocker rule(s) and the page will load as expected.