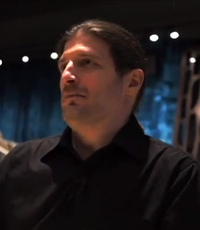 Richard Farrese is a professional writer, narrative designer, editor and musician working at Ubisoft Montreal. Since joining the studio in November 2010, Farrese has worked on multiple aspects of the Assassin's Creed franchise. These include main tier titles such as Assassin's Creed: Revelations and Assassin's Creed III, PlayStation Vita title Assassin's Creed III: Liberation, as well as a variety of transmedia projects including Assassin's Creed: Project Legacy, the UbiWorkshop produced Assassin's Creed Encyclopedia (2011 and 2012 editions) and Assassin's Creed: Recollection. He has also worked on the mentoring initiative for new writers alongside Ann Lemay.
In 2012, Farrese, along with Jill Murray, won the Writers Guild of America award for outstanding achievement in videogame writing for Assassin's Creed III: Liberation. He also wrote Assassin's Creed: Rogue.
Before joining Ubisoft, Farrese, a fan of the series, worked for a decade as a freelance writer, editor, and game designer, primarily on table-top RPG-related projects such as rulebooks, world books, adventure books, and magazine articles, he co-authored several World of Warcraft and Legend of the Five Rings RPG books, published short stories, and founded his own RPG publishing company.
External links