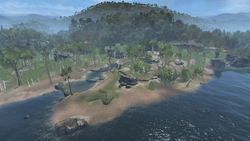 Red Bank was a stretch of woodland, divided in two by a river, in the southern reaches of the River Valley, New York.
The presence of a cave painting depicting the Legend of the Sky Woman indicated the land had at one point been home to the Iroquois. During the Seven Years' War, the Templar Shay Cormac visited Red Bank and took a local frontiersman up on a hunting challenge.
Reference
Ad blocker interference detected!
Wikia is a free-to-use site that makes money from advertising. We have a modified experience for viewers using ad blockers

Wikia is not accessible if you've made further modifications. Remove the custom ad blocker rule(s) and the page will load as expected.