Rebecca Crane
Talk

14
3,875pages on
this wiki
"The Templars might have deeper pockets than us, but they've got no ambition, no passion, no competitive edge! That's why, even with all their resources, anything they can do, I can do better. Faster too."
―Rebecca Crane.
Rebecca Crane (born 1984) is a modern day Assassin and the creator of the Animus 2.0 - which she affectionately referred to as "Baby."
She was a member of Lucy Stillman's team, which concentrated on acquiring the Apple of Eden before Abstergo Industries, as well as training Desmond Miles through the use of the Bleeding effect. She provided technical support for the other members of the Assassin Order alongside her fellow Assassin, Shaun Hastings.
Biography
Early life
"I was into sports, but then I broke my leg and started playing with computers. Who knew that coding could be just as exhilarating as strapping on a board and dropping out of a helicopter?"
―Rebecca Crane.
Rebecca was one of the few Assassins who were not born into the Assassin Order, but recruited instead. Prior to joining the Order, Rebecca engaged in sports, including extreme snowboarding and skydiving. However, when she suffered the injury of a broken leg, she began pursuing an interest in computers during her recovery, and found coding to be as entertaining as her previous hobbies. Rebecca also had a relationship with an electronics engineer before she was contacted by the Assassins.[1]
Some time after her own recruitment into the Order, Rebecca was responsible for the recruitment of Shaun Hastings. Since he had discovered some of Abstergo Industries' secrets, Shaun had begun spreading the word about their plans, thus provoking unwanted attention. Rebecca attempted to ward him off, saying that he was "messing with the wrong people". She later assumed that Shaun did not believe her, as he continued his work. Shaun later admitted that he would have wound up at the bottom of a river had Rebecca not stepped in to save his life, and brought him into the Order.[2]
Rebecca was Clay Kaczmarek's teammate, when he was tasked to infiltrate Abstergo Industries.[3]
Rebecca was also an old friend of Lucy Stillman, though the two did not see each other for seven years after 2005, during which Lucy worked at Abstergo. The two only reunited in 2012, after Desmond and Lucy's escape from Abstergo's laboratories.[2]
At one point, Desmond asked Rebecca if she had ever used the Animus to learn about her ancestors, at which she commented that the lives she had relived were "lame" compared to those of Desmond's ancestors. She elaborated on this, complaining on how boring it had been spending the whole day using firearms as a Prussian mercenary.[1]
Hiding out
"Here we go. I've got you all hooked up. Got a long drive ahead of us. Figured you might want to play around with the Animus on the way."
―Rebecca to Desmond after leaving the Hideout.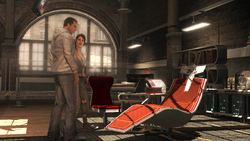 In the Hideout, Rebecca served as technical support for the Animus 2.0, ensuring that nothing went wrong with the machine, or with Desmond's interaction with it. She often left notes within the Database articles that Shaun created, usually when the entries were locations that held Glyphs or Assassin's Tombs.
After Lucy had given her the memory core of the Abstergo Animus, Rebecca excitedly integrated it with her own; successfully - albeit accidentally - also transferring the encrypted files that Clay Kaczmarek had left behind in Ezio Auditore da Firenze's memories.
At the irregular moments when Desmond exited the Animus for a break, Rebecca would speak to him about the Order, and his progress with the machine; once approvingly telling him that he was a natural.
Shortly after Desmond received the warning from Minerva, Abstergo found and broke into the hideout. Rebecca helped Shaun collect the Animus equipment, while Desmond and Lucy held off the Abstergo guards. As they escaped in a van, Rebecca managed to set up the Animus within it, which allowed Desmond to enter the Animus again, and finish any remaining memories while on their way to a safe location up north.[2]
Stay in Monteriggioni
Desmond: "You seem focused."
Rebecca: "I've been busy patching new systems into Baby here. She's only gonna get better."
―Desmond and Rebecca in the Sanctuary.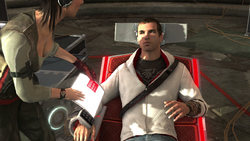 After the team had arrived at Monteriggioni and gained access to the Sanctuary, Rebecca was again responsible for the Animus and their other equipment. To power the underground chamber, Rebecca gave Desmond several devices of her own making, which would re-route small amounts of power to their new base, upon being attached to circuit boxes across the town.
Throughout their stay in the Villa Auditore, Rebecca regularly sent e-mails to her teammates, usually involving minor matters, such as her missing MP3 player, and how Shaun had stolen Lucy's yogurt. She also informed Lucy, seemingly worried, that Desmond had been shouting in his sleep.[1]
Journey to the Colosseum
Shaun: "Santa Maria Aracoeli. See those columns along the aisles? They're lifted from Roman ruins. Now, supposedly, this church was built on top of the ancient Temple of Juno."
Rebecca: "I like the ceiling."
Shaun: "You like the ceiling. Oh well, you are a fascinating travelling companion."
—The Assassins arriving at Santa Maria in Aracoeli.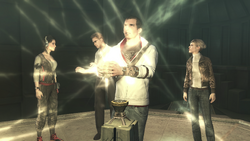 When Desmond found out the location of the Apple, and the team had arrived at the Colosseo, Lucy took Rebecca and Shaun on an alternative route through Capitoline Hill at Shaun's suggestion, as he and Rebecca did not possess the necessary free-running abilities to reach the Apple's location. When Juno spoke to Desmond in the Colosseum Vault, Rebecca - along with Shaun and Lucy - could neither hear nor see her.
As Desmond retrieved the Apple, he was taken over by the "Goddess", and forced to stab Lucy. However, once Juno relinquished her control, Rebecca and Shaun appeared physically unharmed.[1]
Monitoring Desmond
"Every death is a tragedy. To somebody, somewhere."
―Rebecca, regarding Lucy's death.
After Lucy's death and William Miles' arrival, Rebecca presided over the comatose Desmond, who had been placed back into the Animus. After Desmond had relived Ezio's adventures in Constantinople, Desmond managed to regain consciousness.
When he woke up, the Animus had once again been placed inside a van, and Rebecca occupied her usual spot beside him, keeping an eye on the machine and Desmond's health.[4]
Grand Temple
During the final weeks at the Grand Temple, Rebecca mentioned that she had been close to Cross after Desmond encountered him. She explained that they had all been close to him, and became upset when recalling how he used to be.
Rebecca and Shaun helped locate the missing power sources in order to unlock the temple door, leading Desmond, first to New York, then to Brazil and then finally locating the fourth and final power source in the Abstergo Industries building in which Desmond had previously been detained.
After finally unlocking the door, Desmond and the team, including Rebecca, encountered Juno within the depths of the temple. She leads the team to an activation mechanism and tells Desmond to push it, at this point Minerva steps in and tells of Juno's plot to release herself from the temple. After Minerva shows a vision to Desmond of the world's destruction and rebirth only to succumb to war and death once again, Minerva pleads for Desmond to let the world burn. The two gave Desmond a choice, to do nothing and let the world become destroyed and restart with Desmond leading the survivors, or to release Juno and find a way to stop her later. Already having made his choice, Desmond told Rebecca, Shaun and his father to leave and to get as far away as possible before sacrificing himself to protect the Earth from the Second Disaster and liberating Juno from her prison.[5]
Characteristics and personality
"Look, it's not ideal. And taking a life is never easy. But sometimes there's no other way. Sometimes, Desmond, people have to die for things to change."
―Rebecca speaking about an Assassin's duties.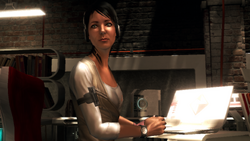 Rebecca was an energetic and somewhat immature young woman. Also, despite the fact that she had saved his life multiple times, Shaun was quick to belittle and gibe at her; though she would rarely be provoked. At one point, when she commented about a movie as Shaun was speaking of the historical background of the Bonfire of the Vanities, he irritably told her to be quiet since "the grownups are talking."
Rebecca was tolerant and optimistic, representing a foil to Shaun's more cynical and brash personality. As the polar opposite of her colleague, she was friendly and talkative. She showed great pride in her work, praising her redesign of the Animus as having a far more enlightened and creative construct; a "competitive edge" as she called it.
She also remained convinced that, despite Shaun's dubiousness of their methods, the Assassins were, as Desmond put it, "the good guys".[2]
Trivia
The name Rebecca is derived from the Hebrew name Rivqah, רִבְקָה, which is traditionally associated with the meanings "to trap, to tie, to secure" or "snare, trap."
When in the Animus 2.0, Rebecca added information to the database using the name REBECCAC84.
Rebecca's e-mail password is Snowmass84, likely to reflect her previous hobby.
In one of her e-mails, Rebecca talked about sometimes missing her family and her dog.
Rebecca was originally intended to have shorter hair in Assassin's Creed: Brotherhood, though this was reverted for the actual game.
In Assassin's Creed: Brotherhood, it was suggested that Rebecca was a reckless driver, as when she offered to drive the van, Shaun refused, saying, "Ah, nice try. I've seen your car."
It was implied that Rebecca was either a vegan or vegetarian, as she accusingly called Desmond a "carnivore" after seeing him eat a burger.
In The Lost Archive DLC trailer, Rebecca could be heard saying "Vidic, you kept him in Animus too long". However, she did not appear in the DLC.
Gallery
References
↑ Assassin's Creed: Revelations