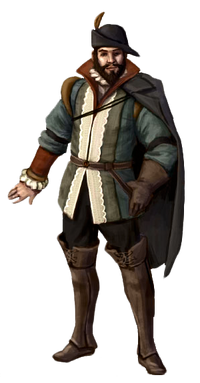 Raphael Sánchez (unknown – 1505) was the treasurer of Queen Isabella I, and a member of the Spanish Brotherhood of Assassins during the late 15th century. He fought against the Templar-influenced Tomás de Torquemada and the Spanish Inquisition, and was an ally of Christopher Columbus and Luis de Santángel.
Biography
Edit
In 1491, Raphael Sánchez traveled to Barcelona after he had found out that the Inquisitors were targeting Spanish Assassins. He met Ezio Auditore da Firenze, another Assassin, in the sewers after the latter had fled from the city guards. Immediately recognizing him as an Assassin, Raphael directed him to the man who was to oversee the executions, Gaspar Martínez.
Raphael and Ezio met up again after Gaspar had been assassinated, and they decided to travel to Zaragoza together, where there were more Assassins to be freed from their imprisonment. Once they had arrived, Raphael told Ezio to seek out Pedro Llorente, but added that he could not come, as he needed an alibi if something were to happen to Llorente.
After having assassinated Llorente and uncovered a Templar conspiracy, Raphael and Ezio traveled to Granada. There, Raphael explained to Ezio that Queen Isabella was waging war against King Muhammad XII, but that he was being held captive inside the castle of Alhambra and couldn't surrender.
Ezio managed to free the king, which effectively ended the war. After the death of Juan de Marillo, Tomás de Torquemada sent his guards to kill Raphael, though Ezio managed to protect Sánchez from the threat.
References
Edit
Characters
Factions
Locations
Events
Terms and Gameplay
Weapons