As an Assassin improved in skill and training, they would progress through a series of ranks, which denoted their standing within the Order. Starting from Novice until Master Assassin, apprentices would improve in both weaponry and ability, learning either from mentors, or on the field.[1][2][3]
Though ranks were only strictly denoted in times when the Order was formally established, they were nevertheless implied at other times; roughly indicating a member's seniority in the Order.[2][3]
Progression
Edit
Assassins varied in equipment choice and skill level at their different ranks, usually due to personal choice, or the time period in which they lived. As such, the following is merely an estimation of one's abilities at each rank, based upon the progression of Altaïr Ibn-La'Ahad after his demotion and of the Assassins mentored by Ezio Auditore da Firenze.[1][2][3]
Rank One/Novice/Recruit
Edit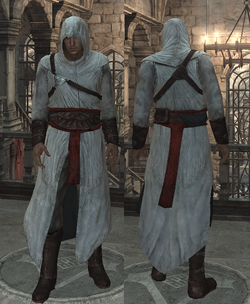 Upon being recruited into the Order, Assassins began at the rank of Novice.
At the point of the first rank of Third Crusade Assassins, they were required to obey all other members of the Order, and were not permitted any weapons. Thus, should they engage in a fight, they needed to either flee, or use their fists. Being only novices at this point, they would usually only survey points of interest or gather information; at the most, only having any assassination targets to be killed by higher-ranked Assassins.[1]
Assassins during the Renaissance were permitted weapons such as a Hidden Blade and were able to be called on by their mentors in the field. Novices had next to no armor and barely any skills that would have helped them during combat.[2][3]
Rank Two/Servant/Initiate
Edit
Third Crusade Assassins who reached the second rank were permitted the use of a basic sword and a Hidden Blade. They were also allowed to complete missions throughout other cities, however, assassinations needed to be confirmed and permitted by the leaders of Assassin bureaus beforehand.[1]
For all but those of the highest rank, Assassins needed to complete their own investigations, and stain a feather marker with their target's blood.[1]
Assassins during the Renaissance were permitted to either upgrade their armor or learn a new skill that could help them when they were called by their Mentor. They were also more effective when sent on missions because they had more experience, both in combat and physical ability.[2][3]
Rank Three/Assistant/Apprentice
Edit
Upon obtaining the third rank, Third Crusade Assassins were given a basic dagger. By this time, they had also learned how to counter melee attacks, improving their capability in direct combat.[1]
Assassins during the Renaissance were given the choice to either obtain new armor, further upgrade their armor, learn another skill, or learn a skill to have both better armor and have a skill that would help in the field.[2][3]
Rank Four/Soldier/Novice
Edit
Third Crusade Assassins received throwing knives by the fourth rank, completing their arsenal. Though they were only allowed five initially, as they improved in skill, many chose to increase the number of knives they carried. Third Crusades Assassins could also tackle and push civilians in crowds with the sacrifice of speed, rather than just avoiding them, allowing them quicker escapes and chases.[1]
Assassins during the Renaissance were given the choice to either upgrade their armor or learn more skills.[2][3]
Rank Five/Disciple/Footpad
Edit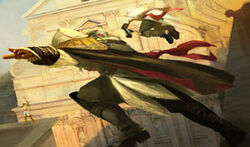 Reaching this rank permitted Third Crusade Assassins gloves as an additional piece of armor, in accordance to their improved climbing and free-running skills. By this point, they could catch ledges while falling should they slip or miss a jump. They could also escape and counter an enemy's grab during a fistfight.[1]
Assassins during the Renaissance were given the choice to either upgrade their armor or learn more skills. There were some assassins who chose only to improve their armor or their skills, and other Assassins who had improved their armor all the way could either finish improving their armor or begin learning new skills, or vice versa.[2][3]
Rank Six/Mercenary/Disciple
Edit
Third Crusade Assassins, at this point, had improved in footwork both during free-running and in combat. As such, they were granted boots or greaves with additional armor. Here, they were able to dodge enemy attacks, as well as catch themselves in a roll upon hitting the ground after a jump. They also had improved stability in a fight, able to regain their balance quickly should they be thrown. They were also granted a more powerful sword.[1]
Assassins during the Renaissance were given the choice to either upgrade their armor or learn more skills. As some Assassins had already finished improving their armor or skills, this was the time where they could begin improving their skills or armor.[2][3]
Rank Seven/Warrior/Mercenary
Edit
Though not changing much in skill set, Third Crusade Assassins at this rank received an upgraded weapon arsenal. They received an extra throwing knife belt, allowing them five additional throwing knives.[1]
Assassins during the Renaissance were given the choice to either upgrade their armor or learn more skills.[2][3]
Rank Eight/Veteran/Warrior
Edit
Third Crusade Assassins improved their skill in sword combat at this point, allowing them to break through the defenses of an enemy armed similarly to them. Here, Altaïr was also granted a personalized sword with an eagle motif, which was considered an exceptionally powerful blade, even centuries later in the Renaissance.[1]
Assassins during the Renaissance were given the choice to either upgrade their armor or learn more skills.[2][3]
Rank Nine/Master/Veteran
Edit
By this rank, Third Crusade Assassins improved their skill in the use of daggers and short blades, on par with their skill level with longswords. They were thus granted a sleeker, more powerful short blade; often with a more ornate design.[1]
Assassins during the Renaissance were given the choice to either finish upgrading their armor or learn more skills. This was the final rank where the apprentice had the ability to improve their armor or skill, depending on what they lacked at the time. Here, they needed just one more rank before being inducted as an Assassin.[2][3]
Rank Ten/Assassin/Assassin, First Rank
Edit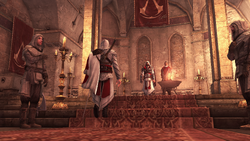 At this final rank, Assassins of the Third Crusade received an additional five throwing knives, as well as a more powerful sword. This curved, golden-hilted Syrian blade was used even by the Mentor at the time.[1]
At this rank, Italian Assassins of the 16th century were formally initiated into the Order; receiving a more ornate set of Assassin robes.[2][3]
Ranks Eleven to Fourteen/Assassin, Second, Third, Fourth and Fifth Ranks
Edit
Turkish Assassins, during the Renaissance, had to progress through four more ranks in order to be a Master Assassin. The only Assassins during Ezio's visit to Constantinople that were able to move through these ranks were those who were chosen by Ezio and set out to guard the seven Assassin Dens found throughout Constantinople.[3]
These ranks were only given to Assassins in Constantinople, it is unknown if other Assassins in other places were also given these Ranks.[3]
Master Assassin
Edit
Main article: Master Assassin
Only Assassins of exceptional skill and standing reached this rank, and were thus highly respected throughout the Order. Over the years, only very few are known to have gained this distinction.[1][2][3]
Though varying on rare occasions, Master Assassins were often the only ones permitted to wield dual Hidden Blades.[2][3]
Main article: Mentor
Assassins of great wisdom and skill were given the title of Mentor. Mentors tutored and unified large groups of Assassins, even across large distances. Very few Assassins have been given this distinction.[1][3]
The following is a breakdown (from lowest to highest) of the titles given to Assassins of each rank, during the Renaissance in Italy, Constantinople and Colonial America.[2][3][4]
Rank
Renaissance
(Italy)
Renaissance
(Constantinople)
American Revolution
(Colonial America)
0
None Given
None Given
Recruit
1
Recluta
(Recruit)
Recruit
Private
2
Servitore
(Servant)
Initiate
Corporal
3
Assistente
(Assistant)
Apprentice
Sergeant
4
Milite
(Soldier)
Novice
Officer Cadet
5
Discepolo
(Disciple)
Footpad
Lieutenant
6
Mercenario
(Mercenary)
Disciple
Captain
7
Guerriero
(Warrior)
Mercenary
Major
8
Veterano
(Veteran)
Warrior
Colonel
9
Maestro
(Master)
Veteran
General
10
Assassino
(Assassin)
Assassin

First Rank

Field Marshal
11
None Given
Assassin

Second Rank

Assassin
12
None Given
Assassin

Third Rank

None Given
13
None Given
Assassin

Fourth Rank

None Given
14
None Given
Assassin

Fifth Rank

None Given
15
None Given
Master

Assassin

None Given
Statistics
Edit
These are statistics of ranks during the Third Crusade. These statistics were based upon the progress of Altaïr.
Rank
Available equipment
Available skills
Other

1

None

None

Base Synchronization

4

Maximum throwing knives

0

Short blade level

0

Longsword level

0

2

None

Base Synchronization

5

Maximum throwing knives

0

Short blade level

0

Longsword level

1

3

Hidden Blade
Longsword
Short blade

Base Synchronization

6

Maximum throwing knives

0

Short blade level

1

Longsword level

1

4

Hidden Blade
Longsword
Short blade
Throwing knives

Base Synchronization

7

Maximum throwing knives

5

Short blade level

1

Longsword level

1

5

Hidden Blade
Longsword
Short blade
Throwing knives

Counter Kills
Tackle
Grab Break
Catch Ledge

Base Synchronization

8

Maximum throwing knives

5

Short blade level

1

Longsword level

1

6

Hidden Blade
Longsword
Short blade
Throwing knives

Counter Kills
Tackle
Grab Break
Catch Ledge
Regain Balance
Dodge

Base Synchronization

9

Maximum throwing knives

5

Short blade level

1

Longsword level

2

7

Hidden Blade
Longsword
Short blade
Throwing knives

Counter Kills
Tackle
Grab Break
Catch Ledge
Regain Balance
Dodge

Base Synchronization

10

Maximum throwing knives

10

Short blade level

1

Longsword level

2

8

Hidden Blade
Longsword
Short blade
Throwing knives

Counter Kills
Tackle
Grab Break
Catch Ledge
Regain Balance
Dodge
Defense Break

Base Synchronization

11

Maximum throwing knives

10

Short blade level

1

Longsword level

3

9

Hidden Blade
Longsword
Short blade
Throwing knives

Counter Kills
Tackle
Grab Break
Catch Ledge
Regain Balance
Dodge
Defense Break

Base Synchronization

12

Maximum throwing knives

10

Short blade level

2

Longsword level

3

10

Hidden Blade
Longsword
Short blade
Throwing knives

Counter Kills
Tackle
Grab Break
Catch Ledge
Regain Balance
Dodge
Defense Break

Base Synchronization

13

Maximum throwing knives

15

Short blade level

2

Longsword level

4
References
Edit