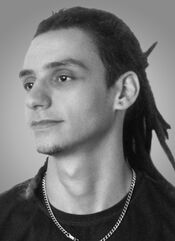 Rafael Grassetti is a freelance Senior Character Artist that worked with Ubisoft Montreal on Assassin's Creed: Revelations and Assassin's Creed III, where his specialization was in-game character images and gameplay interaction concepts.
Recently, he has been a Lead Artist on the concept art team for the Mass Effect series at BioWare.
Biography
Grassetti started his career working as a freelance artist for advertising companies, where he worked as Lead Modeller for almost three years in Brazil. After that, he got back to work as a freelance character artist for cinematic advertising productions and the toy industry for companies abroad. He is currently living in Montreal, Canada, working as a Senior Character Artist at Bioware for the Mass Effect series.
Grassetti has already worked in more than seventy projects for more than fifteen companies in many titles, including cinematic production, game art, television projects, printed advertisement, statue collection design and toy design.
Trivia
Grassetti also has experience with sculpting, modelling, rigging, animation and rendering.
Gallery
The following images are the more notable concept artwork that were created by Rafael Grassetti for Assassin's Creed: Revelations.
External links