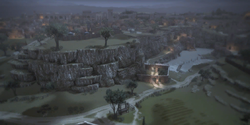 The Quirinal Hill (Latin: Collis Quirinalis, Italian: Colle Quirinale) is one of the Seven Hills of Rome, north-east of the city center. The Italian Head of State resides in the Quirinal Palace on this hill. It was originally part of a group of hills that included Collis Latiaris, Mucialis (or Sanqualis), Salutaris. These are now lost due to building in the 16th century and later.
Reference
Edit
Ad blocker interference detected!
Wikia is a free-to-use site that makes money from advertising. We have a modified experience for viewers using ad blockers

Wikia is not accessible if you've made further modifications. Remove the custom ad blocker rule(s) and the page will load as expected.