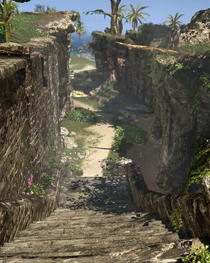 The Queen's Staircase is a staircase of sixty-five steps in Nassau, the capital of the Bahamas.
The staircase was hand-carved by slaves from 1773 to 1774. It was carved directly into a 31 meter tall limestone promontory, connecting the lower part of Nassau to the fortifications above. The steps were later dedicated to Queen Victoria, who reigned Britain for sixty-three years.
Despite not having been built in Edward Kenway's lifetime, Abstergo Entertainment included the staircase in the virtual representation of his memories, due to its status as an iconic landmark.
Reference
Edit
Ad blocker interference detected!
Wikia is a free-to-use site that makes money from advertising. We have a modified experience for viewers using ad blockers

Wikia is not accessible if you've made further modifications. Remove the custom ad blocker rule(s) and the page will load as expected.