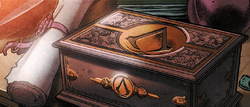 The Prophet's Codex is a codex written by Ezio Auditore da Firenze, Mentor of the Italian Assassins, detailing some of the most important events in his life. One such event was his meeting with Minerva in the Vatican Vault, whose speech he wrote down in great detail.
By 2002, the Prophet's Codex was located in the hidden library of Ivan the Terrible beneath the Bolshoi Theatre in Moscow. Daniel Cross, a Templar agent, infiltrated the library after he had posed as a replacement for the Assassin guarding it. Following this, he opened the Codex and read Minerva's speech to Warren Vidic via his earpiece, before taking it with him back to Abstergo and killing the Assassin sentry.
Reference
Edit
Ad blocker interference detected!
Wikia is a free-to-use site that makes money from advertising. We have a modified experience for viewers using ad blockers

Wikia is not accessible if you've made further modifications. Remove the custom ad blocker rule(s) and the page will load as expected.