We do this together or not at all.


It has been proposed that this page be merged, or partially merged with Consus, under the article: Consus. Discussion to this effect can be held on the former article's talk page.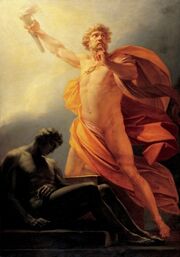 Prometheus is a Titan in Greek mythology.
According to mythology, he created mankind and stole fire from Mount Olympus to allow humans to create their own civilization.[1] As punishment for rebelling against the gods, Prometheus was chained to a rock for eternity, where an eagle would eat his liver daily.[2]
References
Edit
Ad blocker interference detected!
Wikia is a free-to-use site that makes money from advertising. We have a modified experience for viewers using ad blockers

Wikia is not accessible if you've made further modifications. Remove the custom ad blocker rule(s) and the page will load as expected.