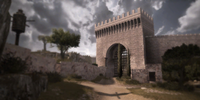 Porta Tiburtina is one of the Aurelian gates of Rome. The gate originally was an arch, built under Emperor Augustus, in the point in which three aqueducts (Aqua Marcia, Aqua Julia and Aqua Tepula) passed over the Via Tiburtina. The arch was restored by Emperors Titus and Caracalla.
The arch of Augustus was incorporated in the Aurelian Walls by Emperor Aurelian. At the time of Honorius' restoration, in the 5th century, a second, external opening was built, with five small openings that enlightened the room where the gate was operated.
With time, the gate changed its name into Porta San Lorenzo, because of the presence of the close by basilica of San Lorenzo fuori le Mura. Common people, however, called it Capo de' Bove or Porta Taurina, since the arch of Augustus was decorated with bull skulls.
Reference
Edit
Ad blocker interference detected!
Wikia is a free-to-use site that makes money from advertising. We have a modified experience for viewers using ad blockers

Wikia is not accessible if you've made further modifications. Remove the custom ad blocker rule(s) and the page will load as expected.