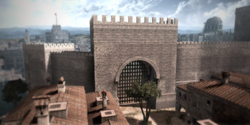 The Porta Settimiana is a gate of the Aurelian Walls on the north side of Trastevere, a district in Rome. During the Middle Ages, the Via Recte ran through this gate and led to the port of Tiber in that district.
History
At the beginning of the 15th century, the Porta Settimiana was restored, a project that was repeated yet again in 1498 when Pope Alexander VI wanted the gate to evoke a military vibe. Shortly afterwards, his son, the Captain-General Cesare Borgia marched out through this gate to conduct his invasion of Romagna and Monteriggioni.
Trivia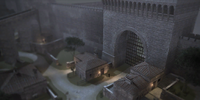 In Assassin's Creed: Brotherhood, all the gates of Rome are misidentified while Shaun Hastings's database entries remain factually correct. In this case, the real Porta Settimiana is the gate on the north end of the Trastevere, mistakenly marked as the Porta Ostiense in the game whereas the Porta Pinciana in the north Campagna District is the one marked as Porta Settimiana. The database entry remains true to reality, correctly describing the gate as being set in Trastevere. For convenience, this article assumes that canonically, Shaun Hastings's research is correct, while the Animus 2.01 erroneously mislabeled the gates.
Reference