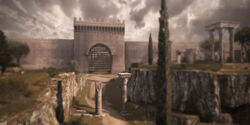 The Porta Praenestina is a gate of the Aurelian Walls in Rome.
Like the Porta Tiburtina, this gate was originally built to support aqueducts, namely the Acqua Claudius and the Acqua Anio Novous, both of which crossed two arterial roads of Rome. The Porta was later incorporated into the Aurelian Walls in an effort to expedite the project.
Reference
Edit
Ad blocker interference detected!
Wikia is a free-to-use site that makes money from advertising. We have a modified experience for viewers using ad blockers

Wikia is not accessible if you've made further modifications. Remove the custom ad blocker rule(s) and the page will load as expected.